Large-Scale Applications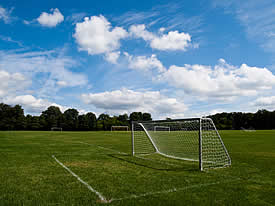 If you manage large acres of turf, whether through a municipality, sports complex, landscape contracting organization, property management company, or otherwise, we are the lawn care company you need to have on your team. The fact is, no other lawn care company, using organic or synthetic materials, can match our pricing while providing an effective, environmentally sound solution. If you want to project a greener image, you need us.  If you want to save costs, you need us.
The combination of our efficient equipment, large buying power, and single focus allow us to deliver unrivaled results at unrivaled pricing.  The fact is, we want your business and it's reflected in our proposal to you.  Not only will your properties show results, so will your bottom line.
If you are a landscaper contractor, we will gladly give you a non-compete agreement for any properties you allow us to subcontract from you.  Ultimately, we aim to develop strong, thriving relationships with managers of large turf acreages.  Not only do you have our word on the integrity of our results, you also have our word on our business integrity too.
If this sounds appealing to you, please call or email.  We will be happy to discuss any unanswered questions and can often email you a proposal the same day you call.  We look forward to speaking with you and creating a new reality for your piece of the environment!