Spring Means Dandelions & Weed Control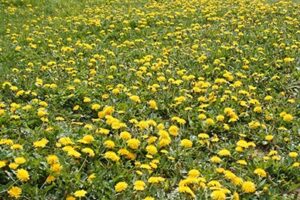 Everyone can spot a dandelion, right? Its bright yellow flower jumps out at you in the midst of an otherwise beautiful spring view of your lawn.
They're clearly an issue each spring. But, did you know they actually start their life cycle in the fall?
As the flowers turn to seed in late spring and early summer, children and wind blow the seeds all over your neighborhood. These seeds wait for the cooler fall weather until they germinate.
Since they are a perennial weed, once they get started each fall, they will come back to life each spring. Going into and thru this spring, one of our main weed control focuses is on any dandelions coming back to life in your lawn.
As the temperatures rise this spring, you will see your dandelions die more quickly after a lawn application, however, as a rule you should see mortality in 10-14 days. Do be aware, as they die, their flowers still may be yellow. However, you will see their stems start to curl and the leaves will begin to stand upright as they turn brown or purple. From there, the end is near.
So as we work thru these weeds this spring, remember, the battle is only half over; we will continue our battle with them again this coming fall too.