The Organic Turf Company's Organic Lawn Care Service
As one of the largest and fastest growing lawn care companies in the Dayton and Cincinnati region, we have been refining our processes since our inception in 2010. We call it our 5 Steps to a Great Lawn.
How does our 5 step process work?
1. Pre-Notification
The day before each and every visit to your home, our software will send a text, or our customer service team will call you, to let you know of your scheduled service.
2. Arrive and Assess
Every time your technician comes to your home, they will first assess the condition of your lawn to identify and address any weed, insect, or fungus issues. We call it "Personalized Outdoor Experiences". You won't find a one size-fits-all approach here.
3. Comprehensive Application
The same technician will serve your property all season long. You get to know them, they get to know your lawn. Each visit, they will make a thorough application to all lawn areas, including hard to reach areas like flower bed edges and along hard surface edges.
4. Clean Up
It's a simple but often overlooked step by other companies. Upon completion of our lawn application, we will always blow clean your street, driveway, sidewalks, porch, and patios. Our products are for nourishing your lawn and we make sure that's exactly where they end up.
5. Service Summary
Before your technician leaves, they will leave a comprehensive report of exactly what was done, what was used, what was seen, and any recommendations or suggestions. We take it a step further and send those reports to your email inbox the day after each application. We do more than just "do lawns". We nourish, inform, and guide.
What makes our approach better for you and your family?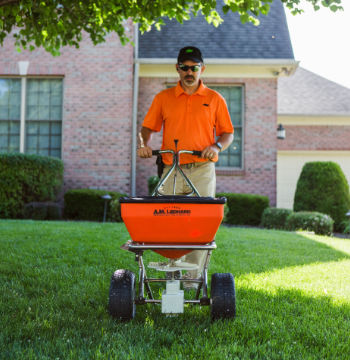 Unlike chemical fertilizers that just paint your grass green, our fertilizers nourish your soil AND gently feed your lawn. And of course, they're pet, child, and environmentally friendly.
How do we address weeds? We suggest a hybrid approach for your lawn. You can't lose with our organic-based nourishment. We do, however, use a limited amount of non-organic weed control simply because it works. But, we use no more than necessary. You get the beautiful lawn you dream of, and it's absolutely as safe as possible. It's a winning combination!
Want to learn more or get started? Give us a call or use the handy contact form found on each page.